How to start with custom fishing shirts

Want custom fishing shirts that match your boat graphic, but don't know where to start? Find all the answers here:
1. Why do you need your custom fishing shirts?


First things first, It's important to know exactly what is the end use of your custom fishing or boat shirts are as this can help set the direction of the types of graphics you need. Whether you want a cool graphic to match your boat name, a fishing team custom jersey, company merchandise for your charter business or a cool shirt for you and your weekend crew, if you want to get suited up and make custom fishing shirts for your whole entourage, you need to know exactly what you'll be using them for. Simple enough right? of course, but thinking it through is the difference between having a cool shirt with a logo and creating a brand that says what you are all about and resonates with the right people.


Custom fishing shirts usually come in these categories:
• Fishing tournament shirts that translate the identity of your team and make the competition know you will take the stage.
• Boat shirts that depict your awesome boat in a one of a kind graphic that shows your boat graphic and your custom boat name lettering
• Company shirts that display your logo in a premium performance product, that adds value to your brand
• Apparel Design where you can create a collection of marine art-related apparel for the fishing community. This category often needs to be thought of collectively as a line of products that have a consistent theme.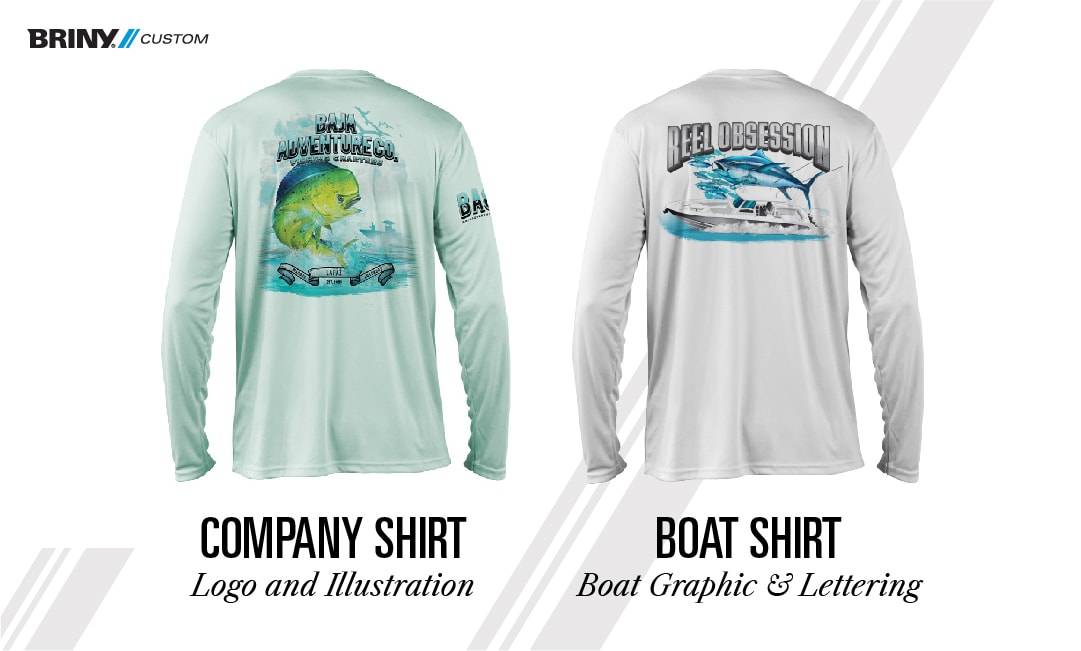 2. How to find your ideal custom fishing shirt provider?


Now that you know what you'll be using your custom fishing shirts for, is time to find the right provider for you. There are many companies that serve more general customer needs, some offer business solutions that are in tune with big orders and minimal customization, if you want your logo in the front pocket of a generic shirt non-specialized shirt, these are the best options, specially if you have your logo 100% ready for print, and don't need personal guidance/service or speciality garment. Then there are other companies that serve individuals and companies with more specific needs; usually those who want to develop a unique custom fishing shirt with their boat graphic and lettering, fishing team name or message. Or those who want an expert marine artist to help them develop and then execute beautiful custom illustrative designs.

Keys for choosing your fishing shirt provider:



Clarity
Make sure you can understand the custom shirt service early in the process, can you pick a long sleeve shirt, or short sleeve shirt from either men or women easily when placing a custom fishing shirt order, or is it a hassle of navigating 10 pages that are trying to make you click on buy right away?. Make sure you can get a direct point of contact quickly and that you can get a human to talk with you and walk you through the process of ordering your custom fishing shirts.


Portfolio
This is what separates men from mice in the industry, take a look at the custom fishing shirt projects the company has developed and judge for yourself if their artwork and marine graphics are up to your standards.
Beyond art and the quality of the marine graphics, you can look at the product variety in their portfolio. As a general rule, more often than not, a specialized company with a selected group of UPF fishing shirts, will develop a better product than one that carries a thousands of generic models and variations. A quality custom fishing shirt is created specifically for fishing and boating, engineered for long exposure to solar rays, while remaining breezy and comfortable for a full day out on the water. This means that it is cut in a specific way and uses very specialized marine fabrics that wick away moisture, leaving you rejuvenated while battling the sun.
Presentation

A great presentation is everything in this industry, not only because it gives you a clear picture of the offer and the steps when ordering your custom fishing shirts, but because it has a direct relation to how the company will treat your project. Look for a site that shows quality in its design and presentation, they will most likely treat your project with the same dedication and care as they treat their website.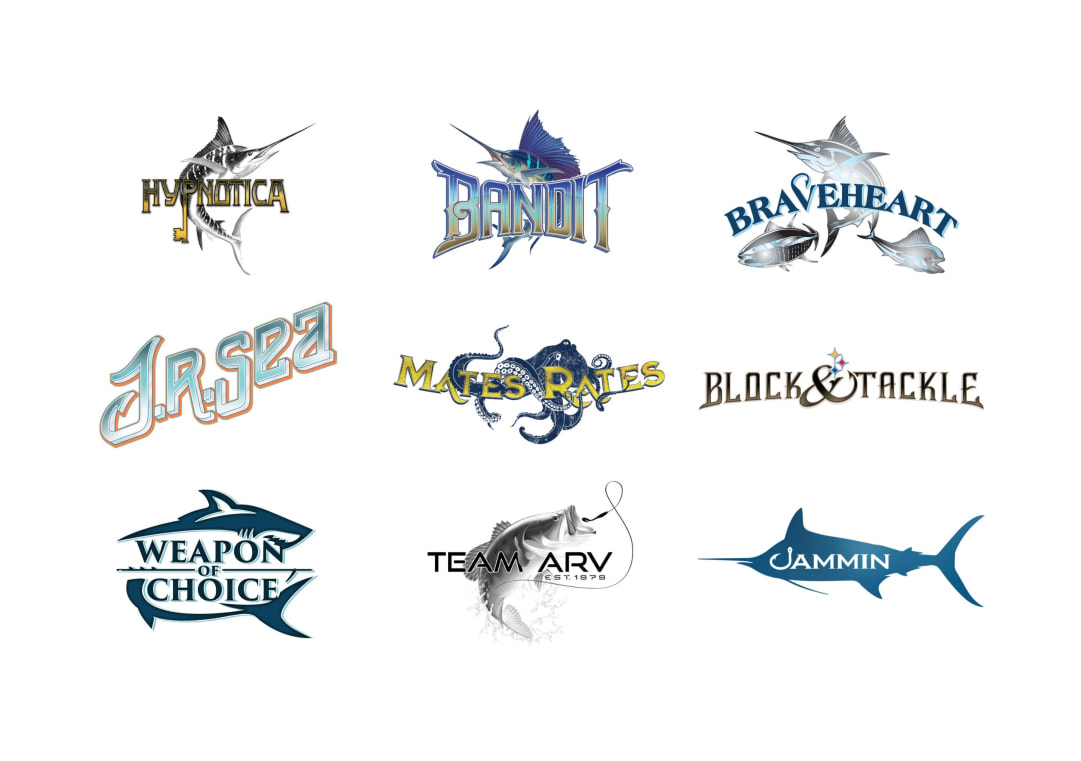 3. Get the look right


Once you've found a custom fishing shirt provider that meets your requirements it's time to get your assets prepared.

If you have your graphic ready, make sure it is print ready artwork

If you don't have artwork ready and will need custom boat graphics, make sure your provider can match your needs, then get a basic idea of what you want and a few graphic or photographic references if possible, and have it ready to share them with your custom fishing shirts provider. Make sure to also share the type of fishing shirt and color you would like as some products could vary.

Here's an example of how your order should look in order for your provider to give you the best custom shirt service as possible:
Dear provider,

I would like to order 24 custom long sleeve arctic blue shirts, sizes S-M-L-XL 6 of each.
I will need custom artwork made, and am thinking of an image that combines a marlin, my Bluewater 2150 and the name "Blue Horizons" I like classic graphics that look clean but have attitude and like the following image I found in your website:
Would like to have the shirts by October 7th to wear in my family reunion"
Kind regards
4. What to expect when ordering your custom fishing shirts?


The process starts with you sharing your requirements to the custom fishing shirt provider, after that you will either receive a call or email to talk about the details of your project or you will be sent a quote.

Production times may vary depending on custom boat art development and quantity of shirts per order, but for an order of 12 to 60 shirts, the average is 1-2 weeks of production for simple custom graphics development, or 3-4 weeks for detailed illustrative/painted artwork creation
5. What service can Briny Custom give you?


If you'd like to check out our premium custom fishing shirt service this could give you an idea of what we do:
Briny is a family run business with a clear goal of delivering premium fishing shirts to every customer, we handle design and manage customers all in the same roof, mostly because we love talking to the fishing community, so our service has developed from there. Our detailed customer service meets with our great partners in the apparel industry that don't take anything lower than A+ quality, and with them we are able to fulfill every custom needs whether you need 12 custom shirts or 1200+. You can read BRINY Co. Google feedback here: BRINY Google Reviews , notice we aim at 100% customer satisfaction!
We carry a comprehensive selection of specialized custom fishing shirts & custom fishing jerseys with advanced lightweight UPF+50 protective features, in addition to premium dye sublimation all done in the USA to insure superb quality. Whether you need custom short sleeve fishing shirts, custom fishing hoodies or long sleeve fishing shirts for men, women, youths and toddlers, we have your back covered, literally!


Care to learn more about custom fishing shirts?
Click here to meet our offer or give us a call at +1 (888) 421-9536