Together, We'll Design Your UPF 50+ Custom Fishing Shirt
Over time, a regular item can often earn its place at the top of your drawer. The fabric, the quality stitching, and the ability to move comfortably can win you over. From one outing (or day in) to the next, a shirt can become your favorite.
In other cases, it's love at first sight--or wear. Design can capture you from the start, like a superb custom boat illustration. Forget your standard company outing shirt. Instead, imagine a lively game fish spiraling out of the water. Your boat name and logo frame your graphic in eye-popping detail! Now, that sounds better than your average long sleeve.
As you know, fishing is a challenging sport. Our custom fishing shirts are protectively engineered for life on the water. Your fishing team can stay out on the water as long as you like with our breathable Microtech fabric. Its quick-dry and stain-repellent features will give you less to worry about when you're out there.
Though we love life on land, the heart of BRINY is at sea. Mesmerized by the ocean, we dress for our dates on the water. In creating our team's apparel, we want to share this thrill with others. Our advanced custom fishing shirt program at BRINY.COM offers custom boat art and shirts of retail quality and perfection.
Rain or shine, heading out to sea is usually long hours under a sweltering sun or chilly rain. Our UV fabric combats these conditions. Our Seaguard custom fishing shirts are UPF 50+, considered the ultimate UV protection available.
The Custom in 'Custom Fishing Shirts'
We're happy to keep this conversation going because more than just fishing and sun to our shirts. As watermen ourselves, we strive to win you over by comfort alone. Once that's achieved, we make sure that the look matches the designers' feel.
For brands and fishing teams, custom apparel help increases visibility. A well-done custom fishing shirts help your team stand out in any crowd or event. The dynamic artwork and custom fishing shirts lure in prospective customers or fans.
The BRINY Custom fishing apparel program connects you to others in a non-intrusive way. Get your message out, make a claim, promote an event, or showcase your personalized gear.
Not every business or boat owner may be looking to make custom fishing shirts, but who doesn't want one? A raise of hands to show who would turn one down? Fishing or not, these long-sleeved shirts are everyone's go-to for outdoor adventures.
Our custom artwork services include boat graphics, fishing illustration, team name, and logo.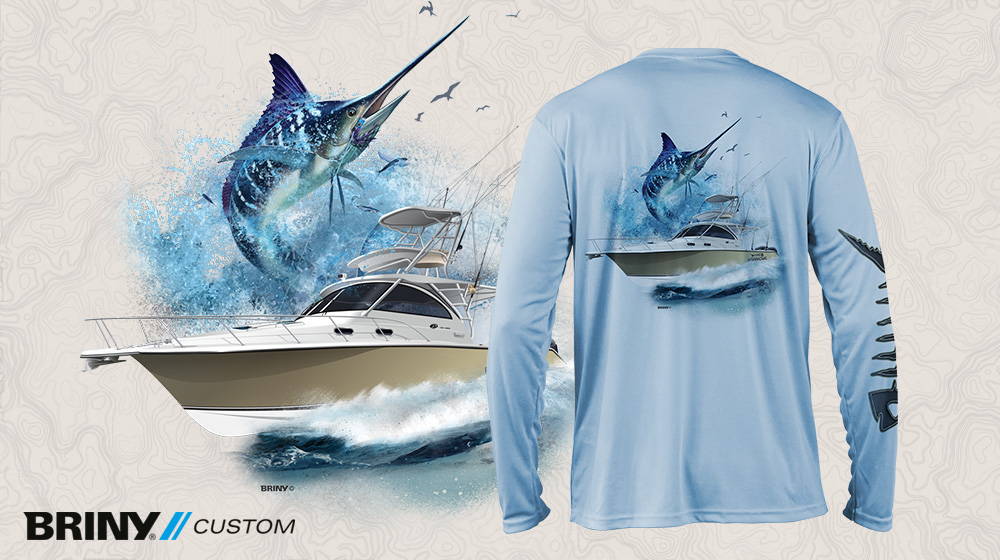 The Briny Process: Design & Sustainability
Nowadays, apps and digital platforms offer a generic quick-fix for basic creative needs. Anyone can easily design anything from a website to custom apparel. That said, whatever you design on a whim probably won't turn any heads. If you want custom fishing shirts that'll stay at the top of everyone's drawer, you might want to turn to the pros. Working with an expert marine artist to help you craft something can be a fun and unique experience.
Now is usually when customers ask us, "So what's your process?"Well, unlike many obscure design teams, we have our process down. We're happy to reel you in and give you the details.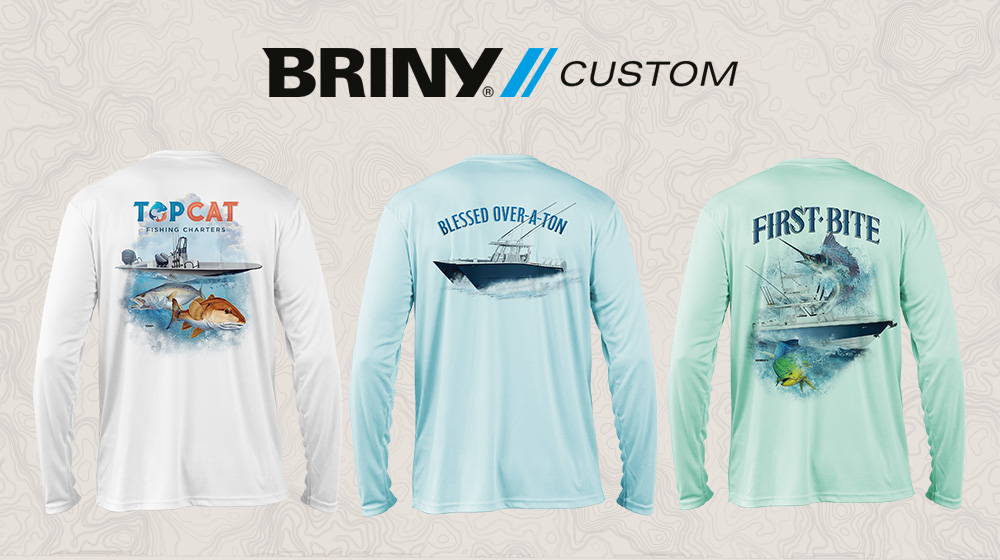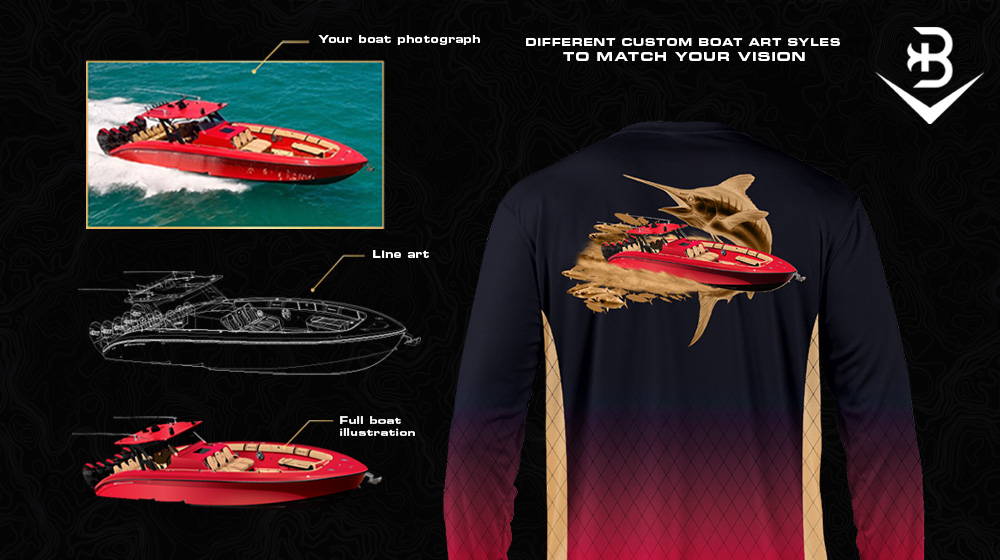 Step 1: Send an email to our team.
Already have a design? Include sizes, quantities, color, sexes, and shipping address in your email. Want a custom design? Reach out to us about your custom request. You'll get a quote from us after we've spoken.
Step 2: You will receive your quote! If you approve, you'll receive a digital invoice. You can pay this via credit card, PayPal, or transfer (Wells Fargo Business Account).
Step 3: Once we've wrapped up steps 1 and 2, you will begin working with our design team. Together, you will perfect the layout of your custom fishing shirt.
Our design team works to capture your vision and bring it to sea. Are we seamen or designers first? We don't know yet, but you can use our eternal (and internal) struggle to your advantage.
Our professionals work with your business or fishing team to add the details of your idea. Our knowledge about custom performance fishing shirts ensures a look that represents you.
If your team is looking for a more hands-off approach, we can take care of everything. You can be as involved as you want.
The final step is approval. You approve digital mock-ups before production. Once you've confirmed, the fun begins! Your custom shirt will undergo a premium die sublimation printing process. Once production is complete, we ship!
We guarantee our clients optimal manufacturing processes. Our licenses and practices contribute directly to the sustainability of the ocean's wildlife. We do not include volatile chemicals in the printing and heat processes. We will continue to edit our eco-friendly production process as we go.


Three FAQs for Custom Fishing Shirts
We love our work, and we achieve the highest quality by asking questions. So, we appreciate you addressing your concerns before moving forward. Always a step ahead, below we've shared some of the most common questions asked by our customers.
What's our return policy for custom orders?
We usually have a no-fuss return policy for standard purchases. However, we manage cancellations or refunds for custom orders on a case-by-case basis.
What are the cancellation fees?
After you purchase, before you receive your first proof for an order from us through email, there will be a 15% cancellation fee.


After you receive your first artwork proof from us, there is a 60% cancellation fee.


After you receive the second or third artwork proof, there is no refund.
What if the products are damaged?
Contact us immediately if your package is significantly damaged, defective, or has an error upon arrival. Please provide photos of the shipment. We may request that the product be shipped back to us to assess the discrepancy in-house before deciding on the return.


Have Questions? Call us at:
+1 (888) 421-9536