Hooded Performance Fishing Shirts
Hooded fishing shirts are anything but your typical fishing shirts, for starters they offer full coverage UPF +50 protection engineered throughout the garment. The performance hooded fishing shirt is a symbol of performance during those long days in the Briny deep, yeah you could go for a generic and then get burnt like a rookie. When you wear the hood, you mean business, it's a shirt that offers an enhanced level of UV protection against the ever beating down sun, your long sleeve hooded fishing shirt can become your secret weapon to keep you focused on the game and perform at the top level during your quest to master the ocean, and return home with some luggage of sweet bounty for the table.
Advanced U.V. Protection, that's the name of the game
We spend several hours a day under the almighty sun, and although a sunny day is always a good omen and it fills our spirit to go push our limits as we chase our pray, we cannot take for granted the invisible threat that is the U.V. radiation, being exposed to it for long periods of time can and will take a toll on our bodies, from a sunburn that will make us return home looking like we were uneven cooked, to beyond cosmetic threats, from developing a higher risk of skin cancer and even melanoma, and of course those are major consequences. The solution that can bring it all together is simple, protect your body with a premium quality UPF +50 hooded fishing shirt so you can continue to do what you love for the longest time possible.
If you'd like to know more on this topic, check out our post about U.V. Protective Clothing for fishing
So what's the role of a hooded performance fishing shirt in all of this? Simple, enhanced protection; your typical UV fishing shirt can do the job of protecting your torso, and long sleeve performance fishing shirts protect your arms of course, but you still have your main weapon to protect, your brain, since long periods of time in the heat of the sun when you're on a fishing trip can make you lose focus and get tired quicker, but a hooded UV fishing shirt makes sure that you remain at the top of your game for a longer time, keep your quick reflexes, lazer focus on your goal and with your mind as fresh as a sweet tuna straight from the sea to your table. On top of the enhanced performance this fishing shirt will provide, you have the fact that a hooded long sleeve fishing shirt will offer a unique look for experienced fishermen, you are on the sea to do what you know, and you dress the part, as most top athletes put it, when you look good, you feel good, and you perform your best.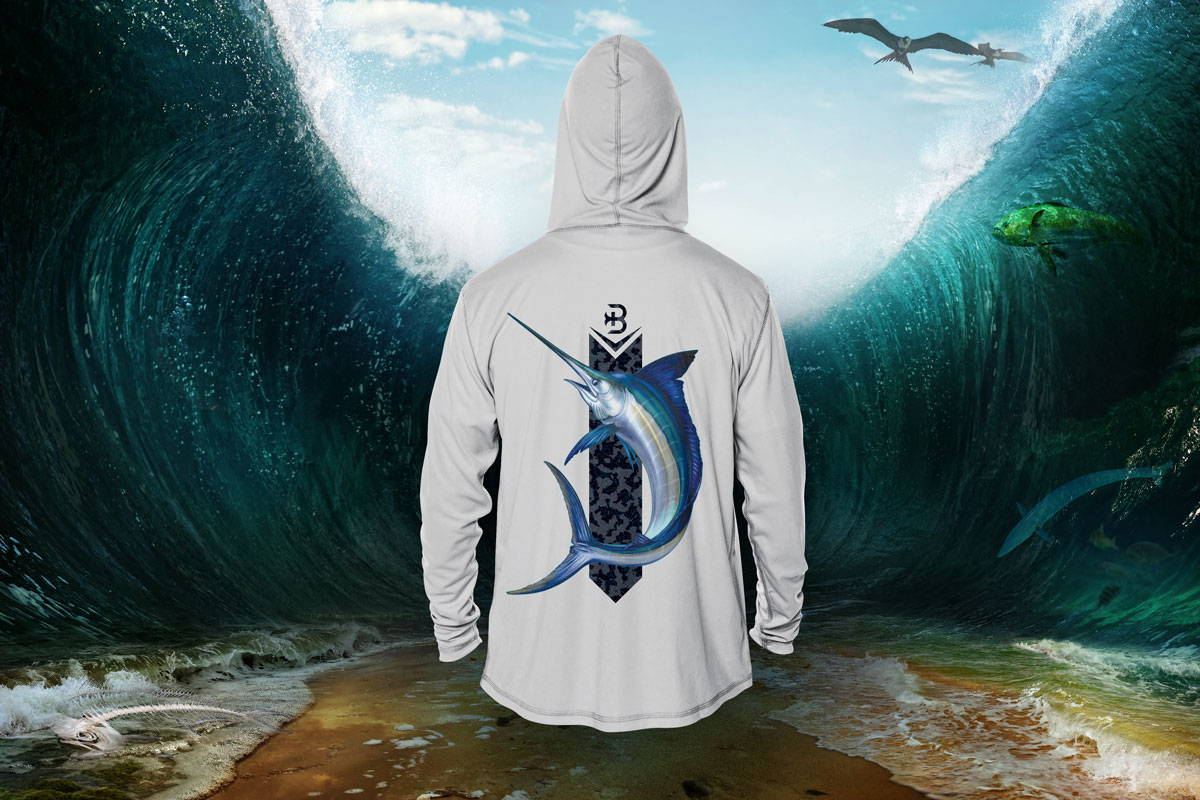 What makes the best hooded performance fishing shirt?
Of course not all hooded fishing shirts are created equal, you have a handful of companies that try to sell you the best hooded fishing shirt from the comfort of an office with a/c on all day, but you have to be on the sea to know what you need in order to perform your best; we have studied, tried and tested different garments and features to come with the best possible product for fishermen looking for a great performance fishing shirt, These are the key elements you need to look in a great hooded fishing shirt:
• Full coverage UPF +50 U.V. Protection to keep you mind protected and sharp.
• Lightweight comfortable garment construction so you can move freely and quick.
• Moisture wicking fabric in order to keep you fresh
• Reinforced athletic stitching so it endures your battles
We know our fellow anglers want to set their own mark on their travels, and sport the uniquely best out there , that's the reason we've developed our Ultra Performance Hooded BARRICADE™ UPF +50 line. Designed by and for fishermen, so you can have a one stop solution to your hardcore angling solar needs. We always enjoy making new friends, sharing stories, and helping our community thrive with great product that enables them to be at the top of their game looking sharp, check out the line and drop us a line.